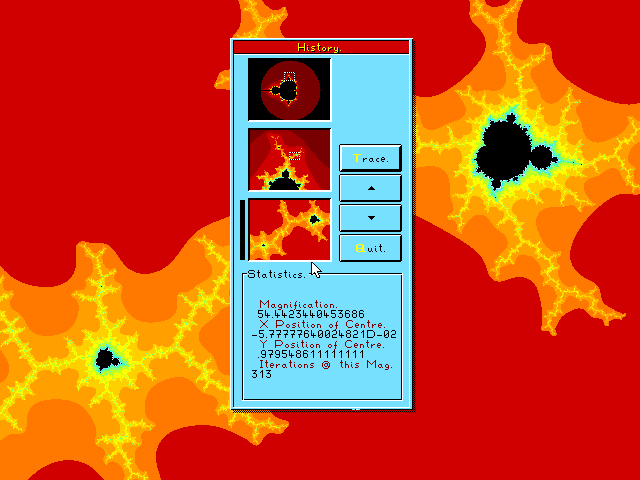 Existing between the -1 and +1 in four dimensions, the ginger bread man fractal figures of the Mandelbrot set (based on two of the planes, the x plane and the imaginary plane) have become familiar to us all.
Mandelbrot's work was a result of trying to unify the work of Gaston Julia and Pierre Fatou during the First World War. The mathematics is based upon repetitive mapping of points in the imaginary plane.
The imaginary plane was invented to explain away problems in expressing time in relativity as imaginary numbers were the only solution to the four dimensional Pythagorean solution.
The screen shot on the right shows the history selected for a particular display with the previous screens and the locations and magnitudes displayed. You can select from a number of palettes and select julia sets from a point on the screen - the history shows you that as well.
Context sensitive help is always available by clicking the mouse in the top left corner of the screen or by pressing [F1]. You do not need a mouse to use this program as all of the operations may be performed by using the keyboard - instructions are in the context sensitive help.
It does not really matter whether or not you understand the mathematics of the pictures, they are pretty enough on their own.